Winter
Lessons
Whether it's your first time on snow, you're looking to build your confidence, or you want to take your skills to the next level. Our professionally certified team of ski and snowboard instructors are passionate about sharing their enthusiasm and expertise for an unparalleled mountain experience.
Multi-day camps now on sale!
Private lessons go on sale on November 30 at 11am.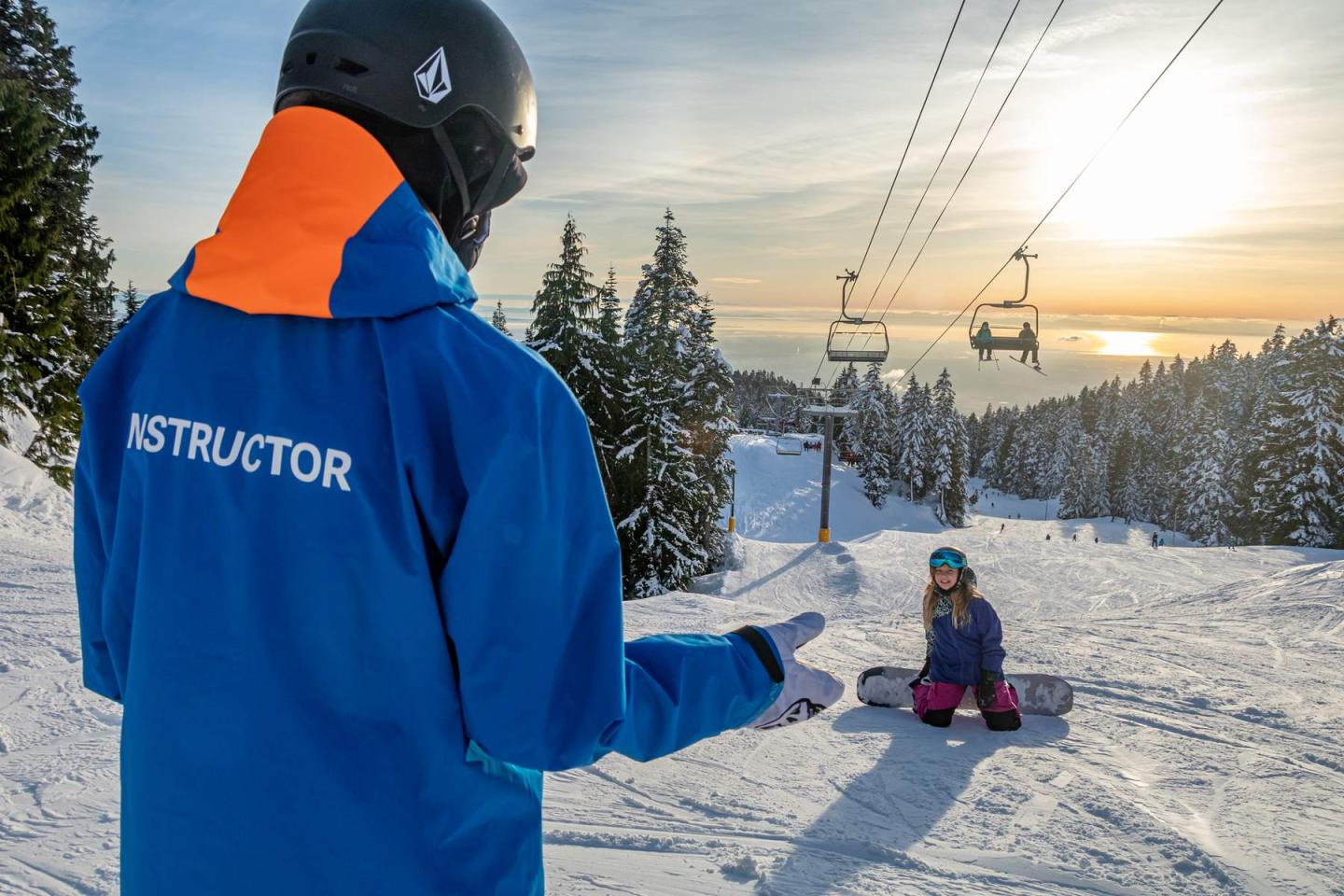 Lesson FAQ's
Should I take a lesson?
Absolutely! Perhaps you have never skied or snowboarded before... it's been a while and you need a refresher... or maybe you want to build on the skills you already have and advance a little out of your comfort zone. 
We can help set you up for success! We have lessons throughout the season for ages 3+ and all ability levels. You can choose based on your preferred method of learning, one-on-one or a group environment.
Should I book my lesson in advance?
Yes! Our lesson programs are popular, so to guarantee a spot we highly recommend booking in advance.
Can family/friends take a lesson together?
This depends on the age and ability of the participants. 
Semi-private lessons for ages 7+ are available, as long as all participants are of the same ability level. We do not recommend semi-private lessons for participants of different ability levels, as the instructor will only be able to teach to the level of the lowest ability. To set you all up for success, separate lessons are recommended.
Private lessons for tots/children under 7 years of age are strictly one-on-one. Our little ones have not yet built up the stamina for long lessons, they learn very differently from older children and adults, and attention from the instructor is vital at this age.
Do I need a lift ticket?
Yes - all lesson participants need a valid lift ticket.  This is included if you have purchased the non-pass holder rate when booking your lesson.
As a season pass holder, purchase the pass holder rates, as your season pass is your lift ticket. 
Season pass holders please note: 4hr timeslot reservations will be required if the lesson takes place on a weekend or holiday between 8.30am - 4.30pm. If you are a Value pass holder, a lift ticket will need to be purchased (at your discounted rate). 
Is rental equipment included?
No - however rental equipment is available to add on during the lesson purchase process. We provide discounted rental rates to lesson participants.
If you did not add on rentals when purchasing your lesson, but now need them, we've got you covered... call us at 604-986-2261 (option 2) to purchase.
What time do I need to arrive for my lesson?
We recommend arriving 60 minutes before your lesson start time (especially if you are renting equipment from us).
Allow time for the drive (or shuttle journey), delays on the road, parking, rental equipment collection (if needed), lesson check-in, and a washroom stop before heading to the lesson.
Please arrive no later than 30-minutes before the start of your lesson!
What happens if I am running late? 
All multi-day camp and group lessons will start on time as scheduled. If you are running a little late, arrive as soon as you can, and we will do our best to escort you out to join your group. 
If you are running late for a Private Lesson, the instructor will wait for you and start the lesson when you arrive, however the lesson will not be extended, and no compensation will be provided for missed time.
Call us at 604-986-2261 (option 2) to advise if you are running late.
Where should I go when I arrive?
To the lesson check-in point.  All single-day private and group lesson participants must check in for each lesson (even if you have multiple ones booked). Multi-day camp participants are required to check in on day 1 of the camp only.
Your lesson/camp ticket will specify your check-in location as per below:
Tot Lessons - All participants ages 3-6 and Bear Cub camp participants age 7 must check in at the Bear's Den (at the far end of the P4 parking lot).
There is only one exception to this: If you have booked a 1-hour parent private lesson at the same time as your tot's private lesson, you both check in at the Lesson Check-in hut in front of the Rentals building.
Adult & Child Lessons - Participants ages 7+ (apart from those booked into a Bear Cub Program) check in at the Lesson Check-in hut in front of the Rentals building.
Is parking included with my lesson?
Yes - All lesson bookings include parking.  On weekends and holidays, lesson participants receive priority driving up the mountain road. Make sure you have your lesson ticket downloaded in advance; this will enable you to skip any queues on the road.  Our traffic attendants will direct you to lesson drop-off zones and priority parking where available.
What if I don't have a car to get up the mountain?
No problem - all lesson participants plus 1 additional person receive free use of the Mt Seymour shuttle bus. For more information about the pick-up locations and schedule, see HERE
Can I reschedule or cancel my lesson?
Lessons and camps are not fully-refundable once purchased, however, changes can be made with the appropriate notice provided.  See details HERE 
What if I am unable to attend my lesson due to injury or sickness?
If you are booked into a multi-day camp or group lesson, and are sick or injured, please email us as soon as possible at lessons@mtseymour.ca
If you are booked into a private lesson, call 604-986-2261 (option 2) as soon as possible, so that we can try our best to reallocate your instructor.
In the event of illness/injury, a doctors note is required within 7 days of the missed camp day. Once received a make-up lesson may be offered, subject to availability, alternatively a credit to e-gift card will be issued.  Email your doctor's note to lessons@mtseymour.ca
I have a Rental Season Pass. Do I need to book my equipment?
As many of our lesson programs take place during peak periods, Mt Seymour highly recommends that Season Pass holders ensure they have their physical Season Pass and be fitted for their Rental Season Pass prior to their lesson date.  Get this sorted in the weeks leading up to your camp/lesson to avoid any delays and unwanted stress!
Rental Season Pass holders should pre-book their rental equipment for all lesson days HERE
Do I need poles for ski lessons?
Most beginner ski programs do not require poles. Your instructor will determine if/when poles are needed. Poles are supplied free of charge for all lessons, even if you are not renting equipment from us.
Will my child ride the chairlift during their lesson?
Maybe - this depends on when the instructor determines they are ready. New learners and young children will always ride the chairlift with an instructor or adult.  Assistance on and off the chairlifts is provided by our lift attendants as requested.
Can I watch my kids whilst they are in the lesson?
This will depend on where the lesson takes place.
Our beginner learning areas have several spots parents can stand on foot to watch, but our more experienced participants may venture away from the learning areas, to places that ski or snowboard equipment is required.  Parents & guardians are welcome to get out on the slopes skiing or snowboarding themselves...just make sure you can keep up if you intend to spy on them!
What should I wear?
Participants will be most comfortable if dressed in layers that can be removed or added as necessary. Below is a list of items we recommend wearing:
- Warm base layer such as long johns and a long sleeve shirt 
- Warm fleece or sweater 
- Waterproof winter jacket with hood 
- Waterproof snow pants 
- Warm socks (and an extra pair for after!) 
- Waterproof gloves or mittens (Mt Seymour does not rent these for hygiene purposes)
- Snowsport goggles or sunglasses (Mt Seymour does not rent these for hygiene purposes)
- Snowsport helmet (Mt Seymour provides helmets for all lesson participants who do not own their own)
Forgot something? No sweat! Check out our Retail Store in The Hut for a wide range of gloves, toques, helmets, goggles, and more!
Do you cater to participants with unique needs?
Yes - We have instructors who are qualified to teach children and adults with cognitive, and sensory challenges. Please see our 'Private Lesson Instructor Requests' webpage for further information on how to book the right instructor.
If you would like coaching for any physical challenges, please see Vancouver Adaptive Snow Sports.