The Mountain
Getting Here
ARRIVING BY CAR
SUMMER
While Mt Seymour Resort is closed for operation April-November each year, the road and parking lots remain open to the public. 
All guests are welcome to park in any of the designated parking spaces (no parking pass required) in parking lots 2, 3 and 4.
Access to the trails can be found in P4, as well as washroom facilities (open to the public)
For overnight parking during the Summer months, please park your vehicle in P2.  A notice on the dash of your vehicle must be visible stating the owner's name and contact number, emergency contact number, destination & number of hikers/campers, and your expected return date/time.
WINTER
All vehicles accessing Mt Seymour between Oct 1 - Mar 31 must be equipped with winter tires in good condition, showing either the peaked mountain/snowflake symbol or M+S. 
The road to Mt Seymour is a mountain highway plowed and sanded during winter. Be aware that weather and road surface conditions change quickly.
During extreme winter conditions, all-wheel-drive vehicles with the peaked mountain/snowflake symbol tires are required. These requirements are for your safety and other road users.
If your vehicle is not suitable and without appropriate tires for the conditions, Mt Seymour's Traffic Attendants reserve the right to deny access. We recommend using our shuttle bus service.
Weekend & Holiday Parking (during Winter operation only)
All Mt Seymour guests and season pass holders will need to reserve an 'Arriving by car'  area pass, activity, or reservation if they intend to drive to the resort on weekends & holidays.
Your vehicle will be turned away if you do not have an 'Arriving by car' area pass or reservation. 'Arriving by bus' reservations will not be accepted at the entrance to the parking lots.
Weekday Parking (during Winter operation only)
Season pass holders do not need to reserve parking on weekdays as parking is on a first come first served basis.
Area pass and activity holders will have the option to choose between 'Arriving by car' or 'Arriving by bus' when purchasing.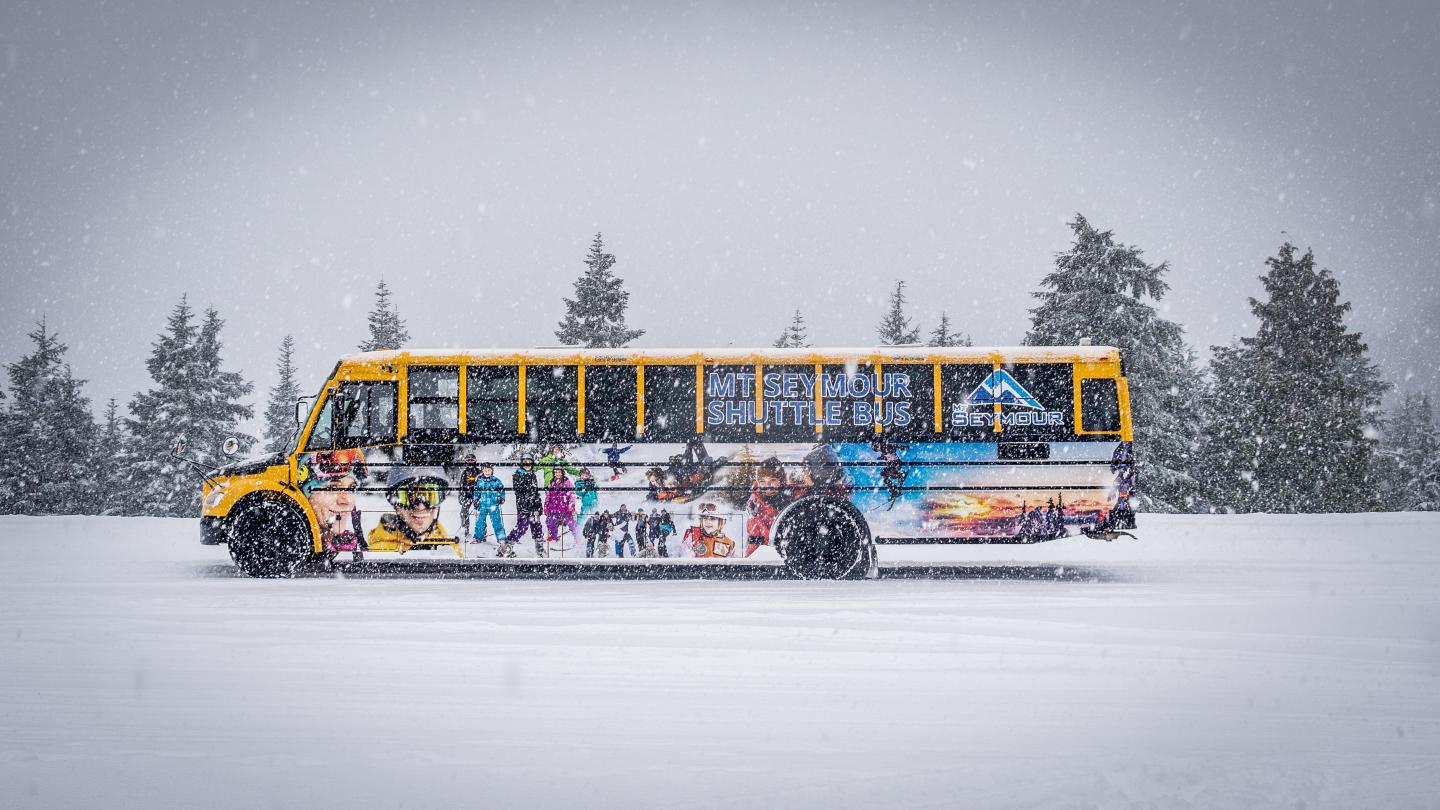 ARRIVING BY BUS
** The Mt Seymour Shuttle service is now closed for the season - resuming Winter 2023 **
Keep cars off the road, gas money in your pocket, and the air a little cleaner...
Mt Seymour operates a regular return-journey shuttle bus service during the winter months from Parkgate Community Centre in North Vancouver, and opposite the Rupert Skytrain Station in East Vancouver.
Mt Seymour Full & Value Season Pass holders can use the shuttle bus for free.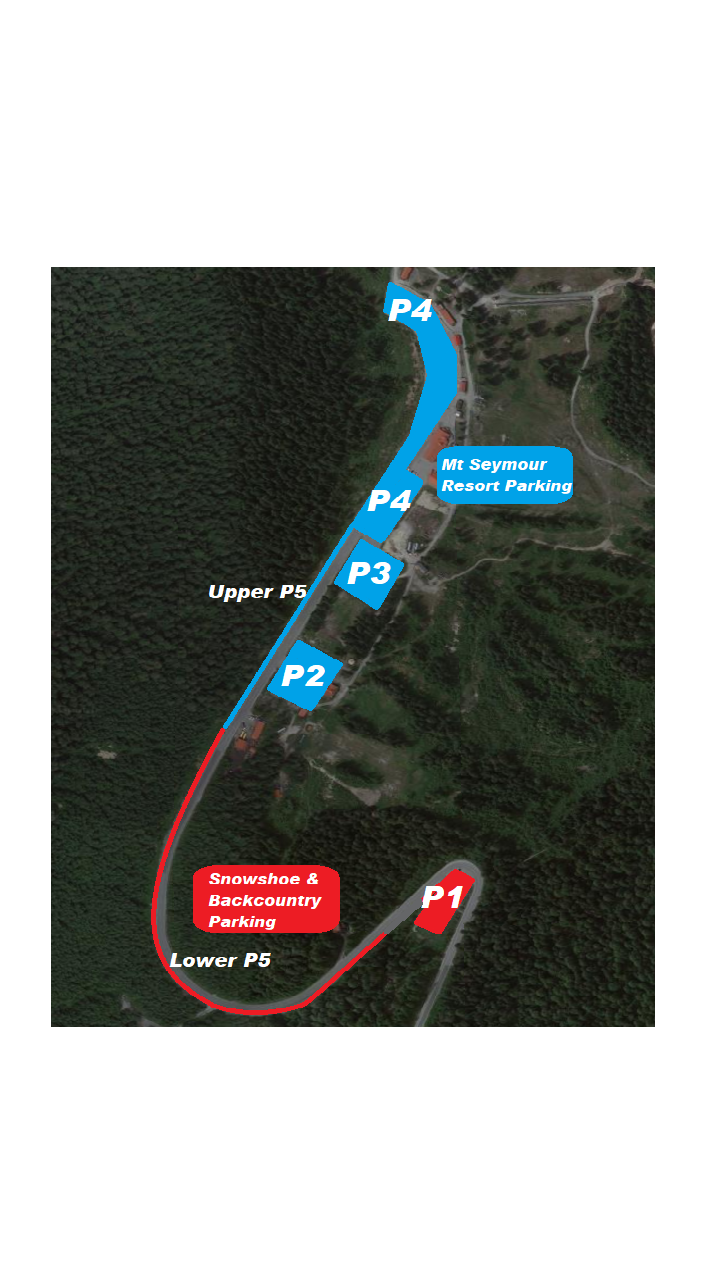 Parking Lot Designations
Mt Seymour Downhill Ski & Snowboard Visitors
P2, P3, P4, Upper P5
Valid area pass or reservation required.
Mt Seymour Snowplay (Tube/Toboggan) Visitors
P2, Lower P5
Valid area pass or reservation required.
Snowshoe and Backcountry Visitors
Lower P5 & P1 (with overnight parking permitted in P1)
To assist BC Parks and their visitors, Mt Seymour Resorts Ltd. has created and maintains a groomed pathway on the west side of the road from Parking Lot 1 to the First Lake/Dog Mountain trailhead. This wide pathway allows backcountry users to safely access the backcountry trails.
 
Parkgate Overflow Parking
See map for approved residential street parking.
Mt Seymour Shuttle Bus users are not permitted to park in Parkgate Mall, Parkgate Library, Parkgate Community Centre, or the neighboring parking lots at Rupert Station. Please be respectful of both residents and parking by-laws.
Parking can be found on Banff Court, Parkgate Ave, Indian River Road, Anne MacDonald Way, and Parkgate Park (between the hours of 7am and 6pm)
Please also be sure to consider our neighbors and park sensibly in these highlighted areas.
 
Good to know...
If you have been denied access to the mountain for your pre-purchased activity, you can apply for a reschedule of your visit by filling out the claims web form HERE
All activities within the Mt Seymour Ski Area, including skiing, snowboarding, snowshoeing, tubing, and tobogganing should be purchased in advance online, as activities do sell out!