Winter
Snowshoe
Our snowshoe trails are now closed. See you next season!
Mt Seymour offers a variety of trails exclusively for snowshoers providing a place of beauty and solitude.
Enjoy the scenic lakes, old-growth forests, and undulating trails on your own or with an experienced guide on one of our popular snowshoe tours.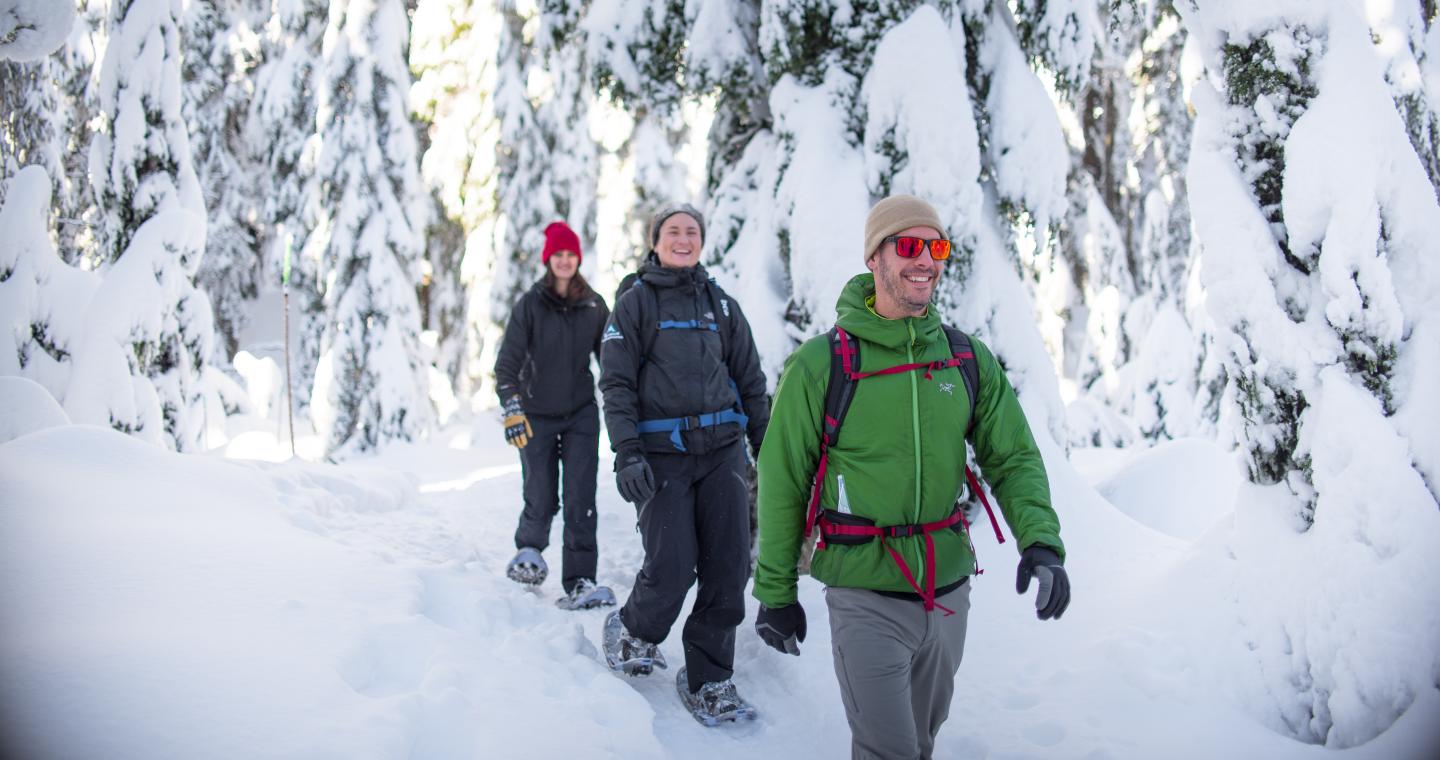 Our trails are now closed for the season.
BUY SEASON PASS - NEW PASSHOLDERS 
 

DAY TICKETS
23/24 SEASON PASSES

New

Passholders

(+$5 RFID card fee)

Renewal

(Returning 22/23

Passholders only)

Trail Pass

only

Trail &

Rentals

Trail Pass

only

Trail &

Rental

Trail Pass

only

Trail &

Rental

Adult (19-59)
$17
$39
$48
$114
$43
$109
Youth (13-18)
$12
$29
$37
$81
$32
$76
Child (5-12)
$11
$23
$37
$70
$32
$65
Tot (4 & under)
$6
$6
N/A
N/A
N/A
N/A
Senior (60+)
$12
$29
$37
$81
$32
$76
Full Season Pass holders**
FREE
FREE
N/A
N/A
N/A
N/A
Value Season Pass holders**
25% off
25% off
N/A
N/A
N/A
N/A
Shuttle Bus Season Pass Add-on
$49
$49
Included
Included
Included
Included
**Season Pass holders must pre-book, click here for more information. PASS HOLDER perks 
PUBLIC TOURS
We offer guided tours for individuals, groups, and schools, providing snowshoe programs suitable for everyone!
Chocolate Fondue | 2.5hrs | Age 13+
Enjoy the enchantment of a Friday or Saturday evening snowshoe tour as you explore the magic of winter under the night sky. This guided experience will lead you through rolling forested trails to a hand-carved snow lounge where you will indulge in a delicious chocolate fondue featuring fresh-cut fruit and special dipping treats. Your guide will share fun facts and stories about chocolate and the fondue tradition while you dip your way into cocoa bliss.
Twilight Tour | 2hrs | Age 13+
The Twilight Snowshoe Tour is a magical Friday or Saturday evening experience that you won't soon forget! Be prepared to experience the mountain at night with a knowledgeable guide exploring the beautiful trails of Mt Seymour!
Intro to Snowshoeing | 2hrs | All ages
This tour introduces the basics of snowshoeing, reveals some of the mountain's best snowshoeing spots, and teaches the basic knowledge needed to stay safe in a winter environment. 
Baby & Me | 2hrs
This snowshoe series is designed for parents with babies, by parents with babies! Parents and babies are invited to enjoy a 90-minute guided snowshoe tour. Our qualified guides create a supportive, social and fun atmosphere so you can relax and bond with your baby.
Watershed Tour
Explore the connection between snow and your drinking water. Join both Metro Vancouver staff and Mt Seymour guides on a tour of the peaks towering above the Seymour Valley; one of three places where water for over 2.4 million residents is collected and stored. Learn about your local water supply and the role that Metro Vancouver plays in providing clean and safe drinking water while ensuring the sustainable use of your water resources. After the hike, warm up with a cup of hot cocoa. These tours are a partnership between Metro Vancouver's Watershed Education Program and Mt Seymour.
Private Guide
Minimum 20 participants, see our groups booking page for more info. 
$5 rebate if you bring your own snowshoes to one of our tours.
FAQ's
What should I wear for snowshoeing?
Layers! Dressing in non-cotton (e.g. wool, fleece, polypropylene) light-weight layers with a waterproof jacket and snow/rain pants is the most ideal way to snowshoe comfortably. Don't forget your gloves, toque, warm non-cotton socks, and sturdy, water-resistant winter or hiking boots.
Does Mt Seymour rent boots for snowshoeing?
We have Neo overboots for rent. They go overtop of your boots or shoes and up to your shin and are a great idea if you do not own water-repellent winter boots or hiking boots.
What should I bring?
Carrying the 10 essentials is always a good idea. We also recommend waterproof shoes and jacket.
Extra food and water
Navigational/communication devices
Extra clothing
First aid kit
Flashlight
Emergency blanket/shelter
Fire-making kit
Pocket knife
Signaling device (i.e. whistle)
Sun protection
Where are the snowshoe trails?
The Discovery Snowshoe Trails (Goldie Lake, Flower Lake) are those run by the resort. The entrance is well-marked and located at the bottom of the Goldie Magic Carpet. The BC Parks/Metro Vancouver Trails (Dog Mountain, Mt Seymour Peak, First Pump) begin from the kiosk near the bottom of the Mystery Express Chair. Please keep in mind that snowshoers are not permitted on the designated ski and snowboard runs nor are they permitted to use the lifts. Check our our new Interactive Trail Maps page for a map of the Discovery Snowshoe Trails.
Does Mt Seymour have night snowshoeing or lit trails?
No, we do not. For the safety of our renters, we keep closing time close to sunset time throughout the season. The last rentals are allowed out 1-hour before closing. None of the trails are lit, but if you have your own equipment and want to use the BC Parks and Metro Vancouver Trail networks (Dog Mountain, First Peak, First Lake) after dark you can, but should be well prepared and experienced in night backcountry travel.
Where can I take the snowshoe rentals?
You can snowshoe in the Mt Seymour Discovery Snowshoe Trails or you can even bring them on the BC Park and Metro Vancouver trails.
Are dogs allowed on the snowshoe trails?
Yes! Dogs are welcome on all the trails, however, you must keep them on a leash and we ask that you please clean up after them! Dog poop resurfaces in giant disgusting blobs in the spring!
Please note: Dogs are NOT permitted on public tours such as the Discovery, Baby & Me, Chocolate Fondue, etc.
Should I use poles?
We only recommend poles for people with hip or knee injuries, or for added stability if they are carrying a baby or a very heavy pack, however, it is a personal preference. If you still wish to use poles, they are available, just let us know.
If I am a downhill Season Pass Holder, do I receive any snowshoe benefits?
Yes! The benefits you receive are dependent on which Season Pass you have purchased:
Full Season Pass Holders:
Free access to the Discovery Snowshoe Trails all season
Free daily Snowshoe Rentals all season
15% Off all Snowshoe guided tours
20% Off Buddy Pass
Value Season Pass Holders:
25% Off Discovery Snowshoe Trail Passes
25% Off daily Snowshoe Rentals
15% Off all Snowshoe guided tours