Getting Here
Shuttle Bus
We are now closed for the season and our Shuttle has ceased operation.
See you next Winter!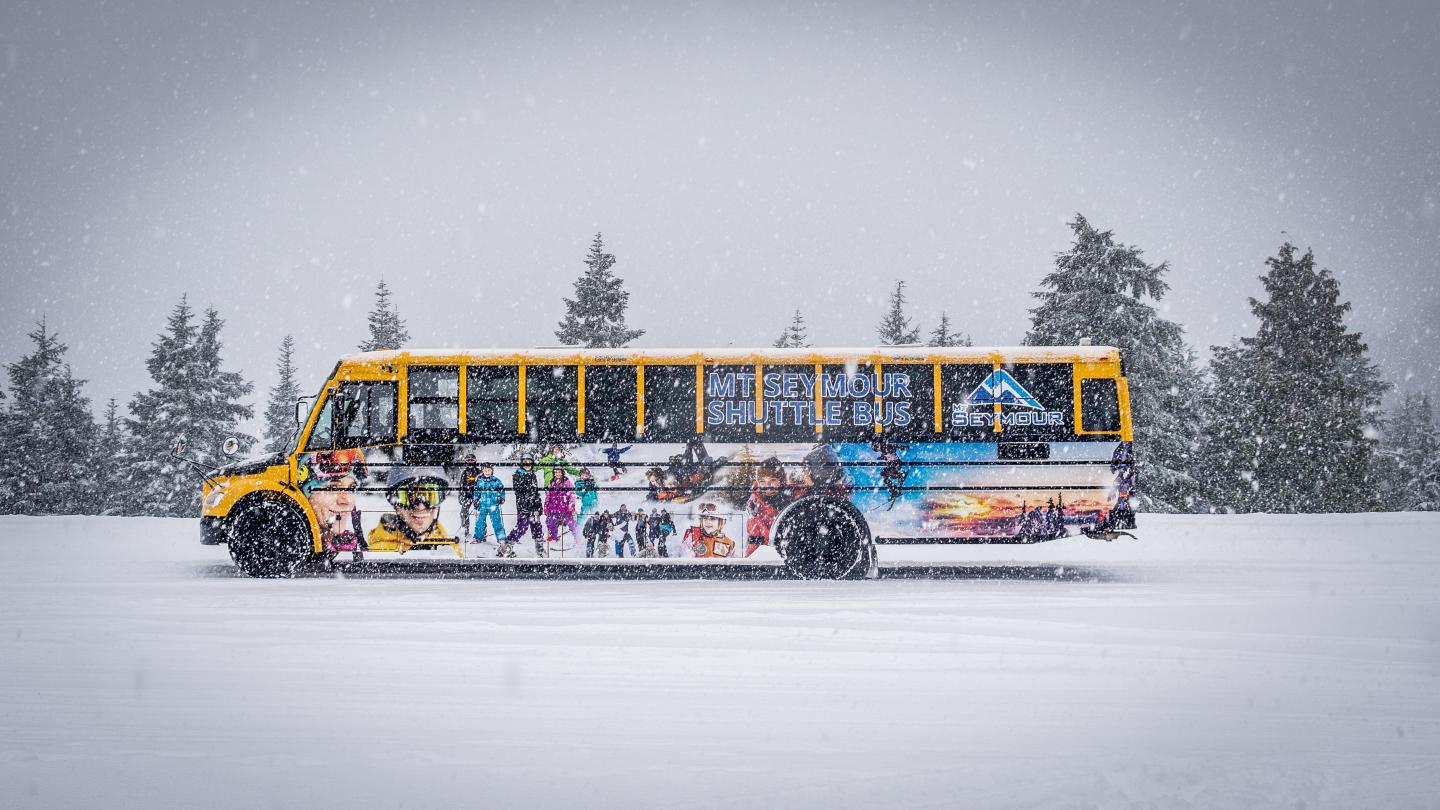 Winter Only
Mt Seymour Shuttle Bus users are not permitted to park in Parkgate Mall, Parkgate Library, Parkgate Community Centre, or the neighboring parking lots at Rupert Station. Please be respectful of both residents and parking by-laws.
Parking can be found on Banff Court, Indian River Road, Anne MacDonald Way, and Parkgate Park (between the hours of 7am and 6pm). PARKING MAP
Please note: Some services are operated by a 3rd party that do not allow ski boots to be worn on the bus, please bring an alternative pair of shoes just in case.

LOCATION

RETURN TRIP (PER SEAT)

FULL & VALUE SEASON

PASS HOLDERS

Rupert Skytrain Station (East Vancouver)

The loading zone opposite the Rupert Skytrain Station.

$15

FREE

Parkgate Community Centre (North Vancouver)

In front of the Parkgate Community Centre/Library.

$10
FREE
Shuttle tickets must be purchased in advance online, prior to boarding. No payment will be accepted by the driver.
No pre-bookings are required for Season Pass holders, buses are first come first served.
Terms & Conditions
Season Pass holders are not required to purchase a shuttle ticket
Lesson participants (not including school groups) receive free use of the shuttle bus on the day of their lesson/s, and include a +1 for a parent or guardian attending the mountain with them
Passengers are required to arrive 10-15 minutes before departure times
Shuttle schedules are adjusted based on weather and are subject to change without notice
At times, Mt Seymour staff members may receive priority boarding to reach their workplace on time to serve guests
The Mt Seymour Shuttle Bus is available to the public during the winter season only
'+' Marked services are to Rupert, but will also stop at Parkgate on route
Additional unscheduled services may run between Mt Seymour and Parkgate during high volume periods
Dogs are not permitted on the shuttle bus, unless registered Service Dogs