Schools
Snowshoe Schools
Named the #1 ski resort for snowshoeing in North America by Snowshoe Magazine in 2012, Mt Seymour offers a variety of trails exclusively for snowshoers providing a place of beauty and solitude. Enjoy the scenic lakes, old growth forests and undulating trails with an experienced guide.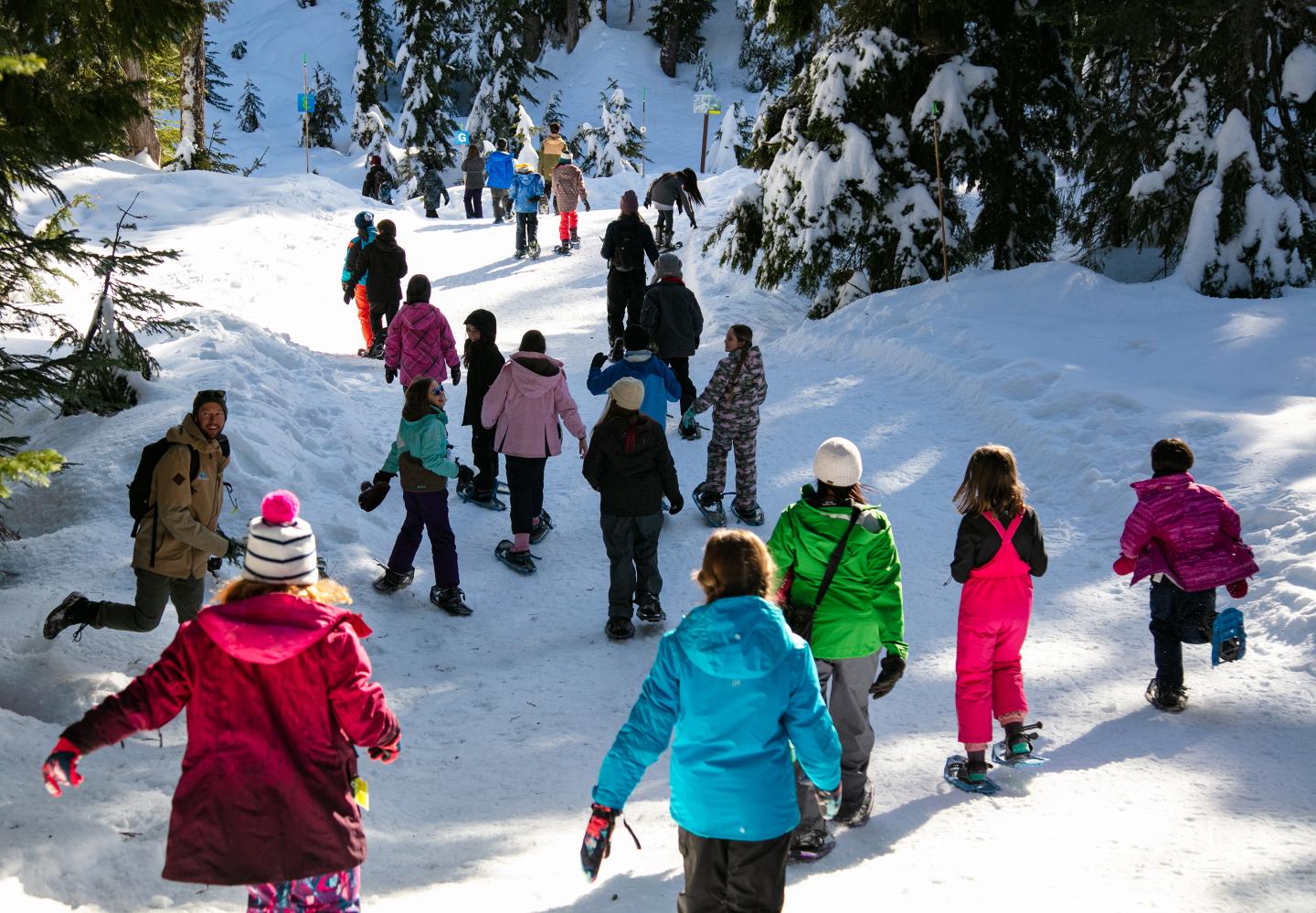 We are fully booked for this season.
Tours take place Monday - Friday, during months of January to April
Half-day programs start at 10am & 12pm 
2-hour Snowshoe Tour $27.50 
3-hour Snowshoe Tour $33 
Combine activities for a full day of fun! Example: 10am-12pm Activity 1 / 1pm-3 pm Activity 2 
2-hour Tubing Add-On $16 

2-hour Toboggan Add-On $8 

Prices include taxes 

Minimum 20 students 

One free chaperone for every 10 students.  Primary classes receive one free chaperone for every 5 students. No additional adults on the tour. 

Organizing teacher and chaperones will each receive a 1-day snowshoe trail and rental pass as a thank you! 
Snowshoe Location for K-3
Meet us at Enquist Lodge and enjoy quicker access to easier trails for your youngest students. Stay afterwards in our Snowplay Area especially designed for primary students – build a fort and a snowman, or just play in the snow before heading back to school.
SNOWSHOE SOCIAL (2 HOURS, ALL AGES) 
Does everyone in your school community want to come along on your field trip? Then this is the program for you! Reconnect with friends and family in nature.  $27.50 per student.  $38.50 per adult. 
Winter Discovery (2 Hours, Grade K+)
The winter discovery snowshoe program is designed to introduce students to a winter environment. This is achieved by incorporating a major educational portion to the discovery tour, where students learn about what is needed to go on a winter hike, and also some extra information on the environment they are surrounded by. The program is broken up by games to ensure that we keep the energy high and that kids have fun. Overall we want the kids to have a positive experience, this might mean that the ratio of information to games might be shifted depending on the group.
Overview:
    Safe travel & Preparedness (The 10 Essentials)
    Animal adaptions for the winter environment
    Plant/Tree adaptations for the winter environment
Curriculum Links: Science K-9, PHE K-9, PE 10-12, Career Education 1-7, English Language Arts 1-7
Nature Games (2 Hours, Grade K-5)
Or ANYONE WHO IS A KID AT HEART!)
Have fun playing games and learning to snowshoe while experiencing the winter ecosystem. Just as younger animals play games to practice skills they'll need to survive in the mountain environment, we too can learn mountain life skills through play.
Overview: Participants will experience winter outdoors, snowshoeing, and learn about life in the forest
    Participants will learn nature exploration etiquette
    Participants will learn basic outdoor safety
    Participants will have fun
Curriculum Links: Science K-5, PHE K-9, PE 10-12, Career Education 4-9, English Language Arts K-5
Snowshoe Showdown (2 Hours, Grade 5+)
This interactive teambuilding program leads groups through fun, fast–paced, team oriented tasks and challenges. Participants will engage in friendly competition against each other while building team spirit, burning energy and having tons of fun.  
Overview:
   Expect to exert a lot of energy! Games will have students running or moving quickly in the snow
   A big game of capture the flag in the forest is a usual favorite!
   Teambuilding and athletic training are some of the themes that may be discussed
   Other games: hypothermia tag, chuck the duck, snowshoe hare race
   Groups are divided in 2 and the guide facilitates the competition
   Promotes problem-solving and team building/bonding
Curriculum Links: Science 7-11, Career Education 7-12, English Language Arts 7, Applied Skills 11, PHE 5-9, PE 10-12
Winter Survival Challenge (2-3 Hours, Ages 9+)
3 hour program: Learn the basics of winter safety and test your ability to survive in the snow! Teams will be given survival scenario to work through using only the equipment found in the backpack provided. Students will learn about trip planning and preparedness, including AdventureSmart's Essentials of Backcountry Safety.
2 hour program: Learn the basics of staying safe outdoors in the winter. Children will play their way to learning about how to be prepared, how to avoid getting lost, and what to do if lost. A mini survival challenge will be used to let the children share what they've learned, all the while having fun and gaining confidence in our snowy winter forest.
Overviews of each program available upon request.
Curriculum Links: PHE 5-9, PE 10-12, Career Education 7-12
Sustainability On Snow
This program introduces students to the concept of sustainability and engages in a variety of activities that will relate natural principles of sustainability to every day concepts. By the end of the program, students should have a better appreciation for how much we can learn from nature and how that translates into our lives. The main difference between the elementary and high school programs is the depth of information addition of more technical language.
Overview (for elementary):
    Impacts of individual actions
    Food
    Survival needs
Overview (for highschool):
    Biomimicry
    Food
    Waste
    Water
    Natural Dependent Relationships & Debrief
Curriculum Links: Science 7-12, Career Education 7-12, Geography 12, Social Studies 6-7, Family Studies 11-12, Sustainable Resources 11-12.