Schools
Snowshoe Schools
Mt Seymour offers a variety of trails exclusively for snowshoeing, providing a place of beauty and solitude. Enjoy the scenic lakes, old growth forests and undulating trails with an experienced guide.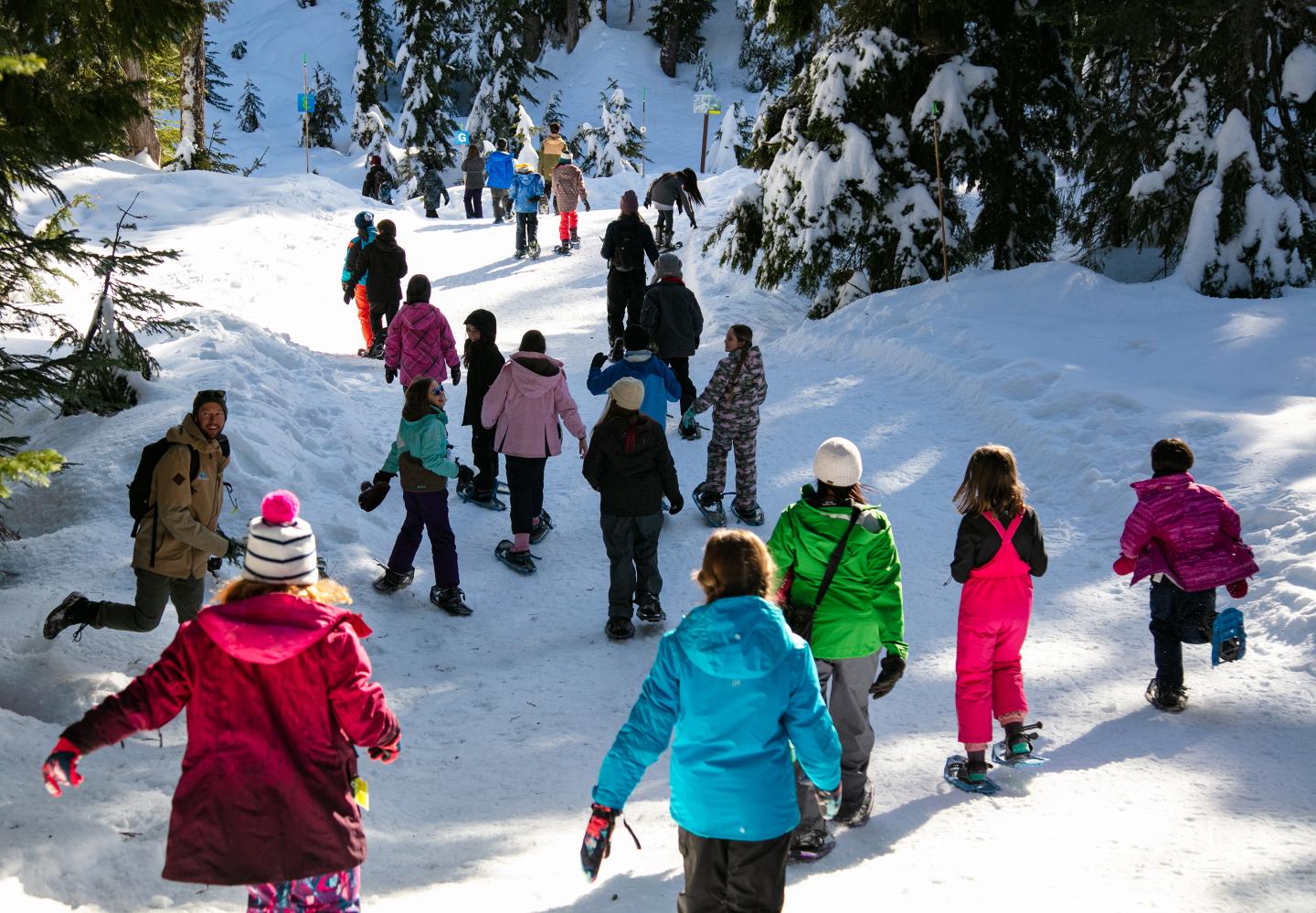 Guided snowshoe tours take place on school days in January through April.
For school groups with grade K-12 students studying the BC curriculum
Minimum of 20 students required
Tours start at 10AM or 1PM (Arrive 30 minutes before)
Pricing
| | |
| --- | --- |
| 2-Hour Tour (Winter Discovery, Nature Games or Snowshoe Showdown) | $27.50 |
| 3-Hour Tour (Winter Survival Challenge) | $33 |
All prices include tax. 
Snowshoe rental is included. 
No season pass discounts on school products.​​​​​
Combine snowshoeing with tubing or tobogganing for a full day of fun! 
Chaperones
One free chaperone for every 10 students.  Primary classes receive one free chaperone for every 5 students. No additional adults are allowed on the tour. 
Each chaperone receives a snowshoe trail and rental pass to use on another day this season.
Grades K-3
Meet us at Enquist Lodge and enjoy quicker access to easier trails for your youngest students. Stay afterwards in our Snowplay Area especially designed for primary students – build a fort and a snowman, or just play in the snow before heading back to school.
Winter Discovery
2 Hours, Grade K+
The winter discovery snowshoe program is designed to introduce students to a winter environment. This is achieved by incorporating a major educational portion to the discovery tour, where students learn about what is needed to go on a winter hike, and also some extra information on the environment they are surrounded by. The program is broken up by games to ensure that we keep the energy high and that kids have fun. Overall we want the kids to have a positive experience, this might mean that the ratio of information to games might be shifted depending on the group.
Overview:
    Safe travel & preparedness (The 10 Essentials)
    Animal adaptions for the winter environment
    Plant/Tree adaptations for the winter environment
Curriculum Links: Science K-9, PHE K-9, PE 10-12, Career Education 1-7, English Language Arts 1-7
Nature Games
2 Hours, Grade K-5
Have fun playing games and learning to snowshoe while experiencing the winter ecosystem. Just as younger animals play games to practice skills they'll need to survive in the mountain environment, we too can learn mountain life skills through play.
Overview: Participants will experience winter outdoors, snowshoeing, and learn about life in the forest
    Participants will learn nature exploration etiquette
    Participants will learn basic outdoor safety
    Participants will have fun
Curriculum Links: Science K-5, PHE K-9, PE 10-12, Career Education 4-9, English Language Arts K-5
Snowshoe Showdown
2 Hours, Grade 5+
This interactive teambuilding program leads groups through fun, fast–paced, team oriented tasks and challenges. Participants will engage in friendly competition against each other while building team spirit, burning energy and having tons of fun.  
Overview:
   Expect to exert a lot of energy! Games will have students running or moving quickly in the snow
   A big game of capture the flag in the forest is a usual favorite!
   Teambuilding and athletic training are some of the themes that may be discussed
   Other games: hypothermia tag, chuck the duck, snowshoe hare race
   Groups are divided in 2 and the guide facilitates the competition
   Promotes problem-solving and team building/bonding
Curriculum Links: Science 7-11, Career Education 7-12, English Language Arts 7, Applied Skills 11, PHE 5-9, PE 10-12
Winter Survival Challenge
3 Hours, Grade 5+
Learn the basics of winter safety and test your ability to survive in the snow! Students will learn about trip planning and preparedness, including AdventureSmart's Essentials of Backcountry Safety. Teams will be given survival scenario to work through using only the equipment found in the backpack provided. Have fun and gain confidence in our snowy winter forest. 
Curriculum Links: PHE 5-9, PE 10-12, Career Education 7-12